The Eyes tell EVERYTHING… when you wear amazing Halloween contact lenses! Browse our collection of Halloween contact lenses and costumes. From the striking Vampire contact lenses, to the chilling Zombie contact lenses, you'll find them all at SFXHalloweenContacts.com. The extreme special effects styles and extraordinary colors currently found on the market will complete your next costume.
Theatrical Contact Lenses that are FDA Approved for YOUR Safety
Cosmetic contact lenses are no joke and neither is the health of your eyesight! Without the proper handling and care for your eyes and your lenses, you can end up with a variety of eye injuries and conditions. When it comes to buying contact lenses in the United States, the FDA has issued guidelines for the purchase of cosmetic contact lenses.
Find FDA Approved Contact Lenses »
See Your Optometrist BEFORE You Purchase Lenses
If you don't think you need to see an eye doctor to purchase decorative lenses, you do. An annual visit to your local Optometrist will ensure that your sight is operating as it should and that your eyes are healthy. All contact lenses are intended to be worn only with the assistance of a qualified eye care professional, and professional eye care supervision. When it comes to purchasing Halloween contacts on the Internet, reputable Contact Lens dealers follow the FDA guidelines for prescription verification. Do you still find yourself asking questions like: "Why do I need a prescription for Halloween Contacts?" or "Can I buy Halloween contact lenses without a prescription?", then click here to find out more information about purchasing Halloween contact lenses BEFORE you attempt to purchase cosmetic contact lenses.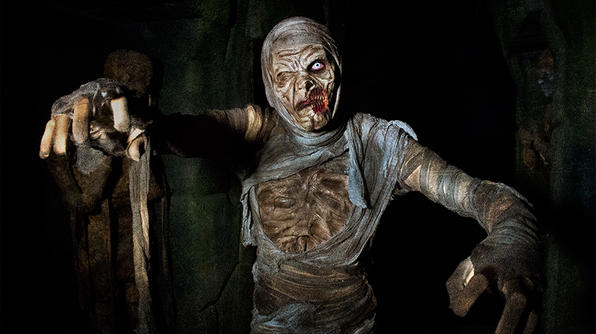 TravelChannel.com chose their their top 10 Halloween Attractions for 2014.  These are the must-see haunted attractions for this season.  The fear factor bar has been raised higher with even more amazing special effects produced by the best in the business.  Thrilling...
read more
httpvh://www.youtube.com/watch?v=JNSK0647wJI This teaser of Marc Webb's Amazing Spider-Man 2 was released for Comic Con 2013.  Jamie Foxx appears to be wearing full sclera special fx lenses as Electro.
read more
Halloween Contact Styles